Crystal 15th Anniversary Gifts
Sample Designs & Wording Messages
What Our Customers Are Saying (84)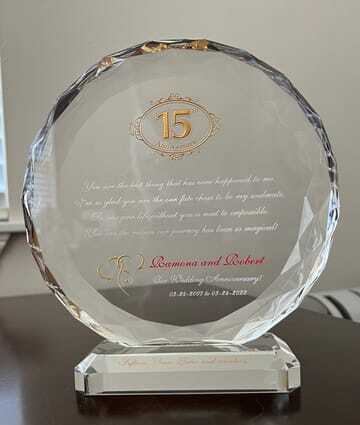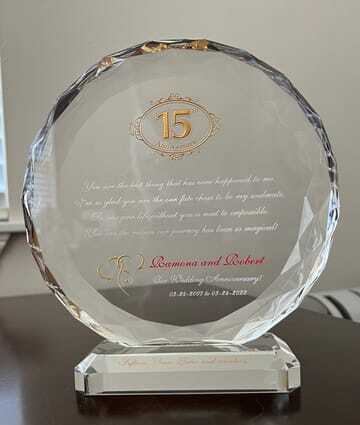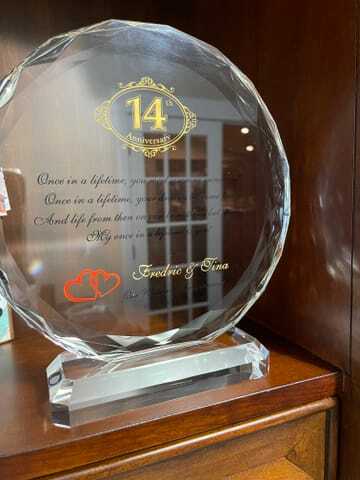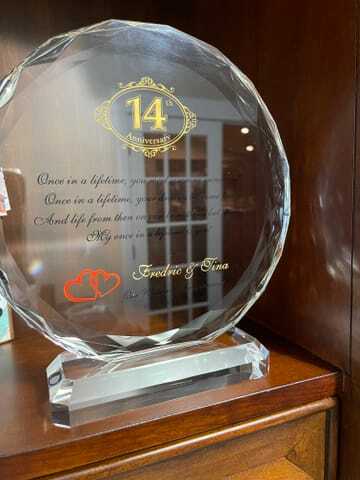 Excellent product
Hephzibah, GA
April 25, 2023
Very fast service...arrived before the…
Antioch, TN
April 5, 2023
Awesome
Warrington, PA
March 10, 2023
Seminole, FL
February 28, 2023
Buckley, MI
March 22, 2022
I am very pleased with the product
El Paso, TX
March 17, 2022
Product Description
It is incredibly romantic that each anniversary milestone has an official symbol. It inspires creative gift giving and honors timeless tradition. The material for each symbol starts out simple. Paper, wood and leather give way to fine metals and precious gems. As the marriage grows, so does the value of each symbol.
Crystal is the symbol assigned to the 15th year of marriage. This stunning crystal sunflower anniversary gift is the perfect personalized piece for a 15th anniversary gift. It's beveled circular shape offers plenty of room to engrave your own wording. It's a lovely crystal anniversary gift that will amaze your significant other, and the optional color fill and design details really complete the piece.
When you are honoring 15 years of marriage, there should be thoughtfulness and love put into the 15th anniversary gift. It should be personal, meaningful and long lasting, like our crystal sunflower anniversary gift. Celebrate 15 years of marriage with this crystal piece to commemorate years of dedication to your significant other.