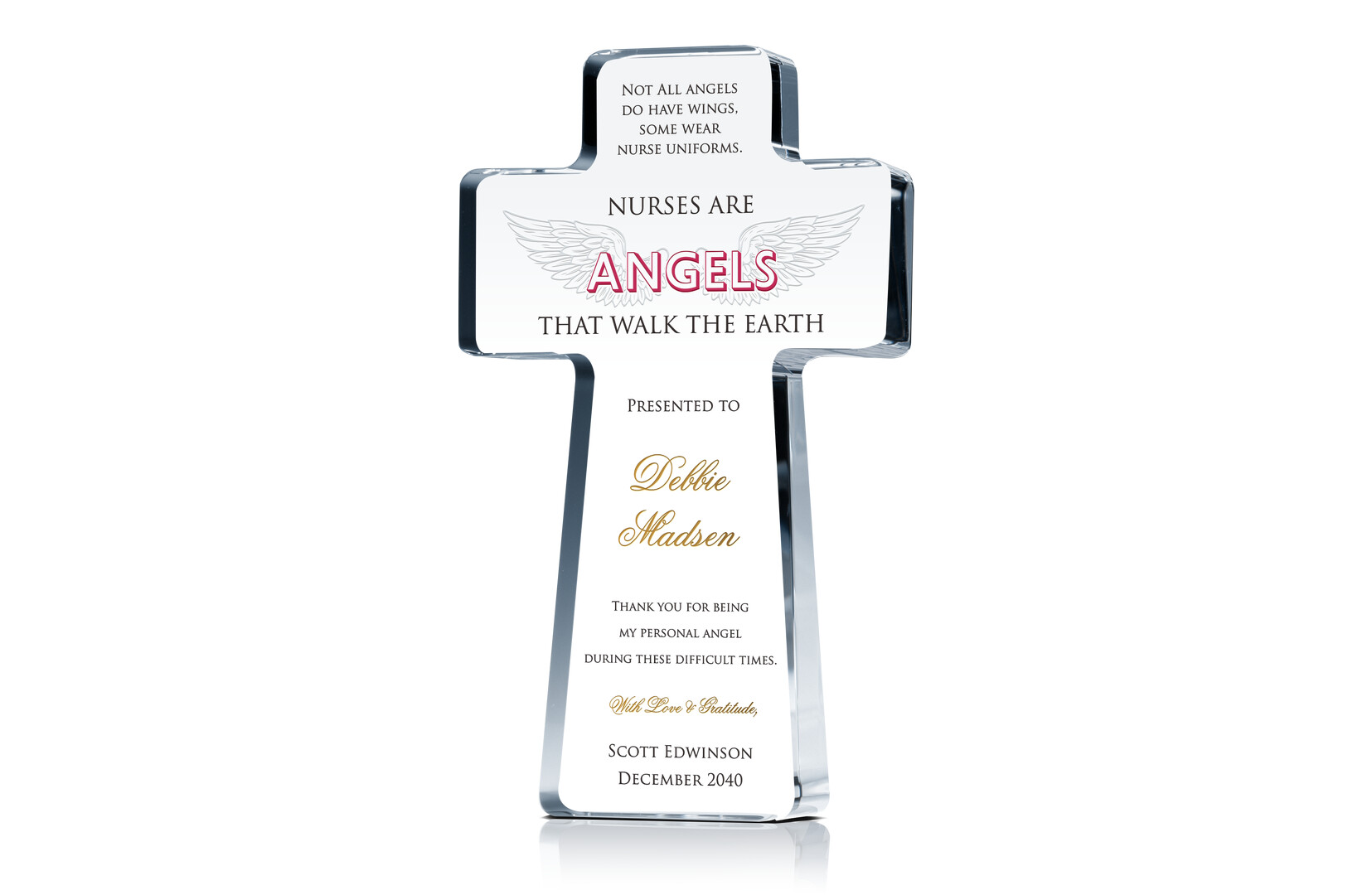 Sample Designs & Wording Messages
Angel Wings Nurse Appreciation Cross

Not All angelsdo have wings, 
some wear nurse uniforms.

NURSES ARE ANGELS
THAT WALK THE EARTH

Thank you for being
my personal angel
during these difficult times.

A Nurse's Prayer Gift Plaque

A Nurse's Prayer

Give to my heart, Oh Lord...
Compassion and Understanding.
Give to my hands, skill and tenderness.
Give to my lips words to comfort.
Give to me, Lord...
Strength for this selfless service.
And enable me to give hope
to those I am called to serve.
Amen.

Religious Thank You Gift for Nurse

You're a truly
AWESOME
nurse and 
an amazing person.
You are greatly
APPRECIATED!

Happy Nurses Week
What Our Customers Are Saying (3)
Filter by:
Product ordered and shipped very fast
Stuttgart, AR
October 9, 2019
Absolutely fabulous product and …
Arlington, VA
December 12, 2017
The product was more beautiful than …
Georgetown, TX
September 16, 2017
Product Description
An age-old symbol of strength and faith, the cross is such a beautiful acknowledgment of the Holy Spirit. Understated, yet imbued with meaning, it's the perfect shape to define the Nurse Appreciation Gift Plaque. Detailed with angel wings and a beautiful quotation, this nurse's prayer gift plaque is a lovely way to honor the heroic men and women who serve the sick and injured with such stalwart faith.
Naturally reflective and beaming with light, the angel wings nurse appreciation cross is in a class all its own. Because our deep etch engraving is part of the deal, and requires no additional payment, inscribing this little beauty with scripture or the nurse's prayer has never been easier. Show appreciation for the special nurse in your life with a gorgeous memento to his or her unwavering service.