Wording Details
To Our Beloved Minister
Christ The King Baptist Church
recognizes your many years of
dedicated and faithful service
to the Deacon Ministry.
With our heartfelt gratitude.
"So, brothers and sisters,
choose seven of your own men
who are good, full of the Spirit
and full of wisdom. We will put
them in charge of this work."
- Acts 6:3 New Century Version
Go into all the world and proclaim the good news
to the whole creation. - Mark 16:15
Product Reviews
Excellent Customer Service for a Pastoral Gift
Montgomery, TX
May 14, 2021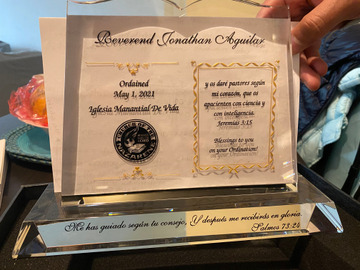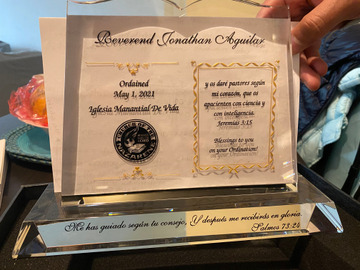 I was extremely pleased with the…
CUMMING, GA
July 30, 2020
AYLETT, VA
November 19, 2019
More than expected
Los Angeles, CA
October 29, 2019
Brooklyn, NY
August 14, 2019
Item was even more beautiful than…
Hernando, MS
May 21, 2019
OMG I LOVE IT!!
Lakewood, NJ
May 8, 2019
Shop Now