Wording Details
To Our Beloved Reverend
We Thank God for you Pastor!
For your willingness to give of yourself
With a desire to love God to the very end
following the Bible path each new day
Tending your flock in the Savior's way.
You have blessed our lives.
"Let the elders who rule well be counted worthy
of double honor, especially those who labor
in the word and doctrine." 1Tim.5:17
Love And Appreciation For A Very Special Pastor
 
Product Reviews
Excellent Customer Service for a Pastoral Gift
Montgomery, TX
May 14, 2021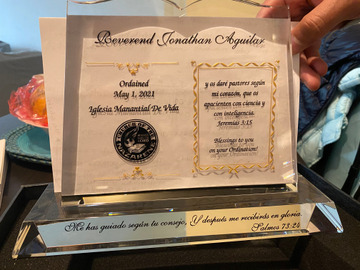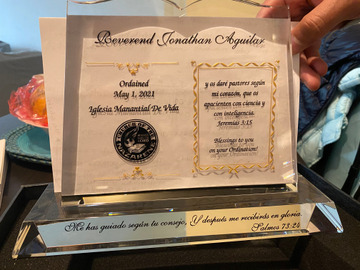 I was extremely pleased with the…
CUMMING, GA
July 30, 2020
AYLETT, VA
November 19, 2019
More than expected
Los Angeles, CA
October 29, 2019
Brooklyn, NY
August 14, 2019
Item was even more beautiful than…
Hernando, MS
May 21, 2019
OMG I LOVE IT!!
Lakewood, NJ
May 8, 2019
Shop Now